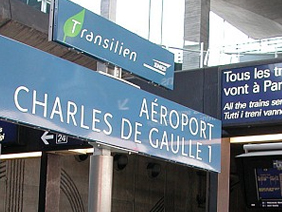 The Charles de Gaulle airport is 35 minutes by car from northeast Paris. You can reach it by various means of transportation, such as the public buses or trains. However, it may be long to reach your accommodation since the city is really big. Commuting between different means can end up being longer and more expensive than taking a taxi, especially when you travel in a small group or with a family
The easiest way to travel to your accommodation from Charles de Gaulle airport is by taxi. By reserving your taxi on-line, advantages are several. Knowing the price beforehand- minimizing the possibility of paying more
You should also take into consideration suitcases when you are choosing a way to travel from the airport. Especially with checked baggage, it is better to avoid public transport, where you will have to carry your heavy baggage up and down ramps and stairs, since in some train stations there are no escalators.
Book your private transfer now by filling in the form.
Using the Charles de Gaulle taxi service is highly recommended when your arrival in the city is in the late afternoon or evening. At certain times of day, Paris becomes a very different place than what you see on TV or read about in the newspapers.
Regarding security, as in all means of transportation, every Charles de Gaulle taxi service driver complies with all standards and regulations put forth by the French government. These include having children less than two years of age sitting in car seats for the entire trip. If you need a car seat, you simply need to mention it when making your reservation. It will come for free.
ByLuca d'Alessandro